Flag Officials Level 2 Clinic – April 26th
April 13, 2023
Football PEI, in partnership with the PEI Football Officials Association, will be holding a Flag Officials Level 2 Clinic on Wednesday, April 26th.
The Clinic will be held at the Sport PEI Building, 40 Enman Crescent, Charlottetown in Room 149 and will start at 6:00PM. This will be an IN-PERSON ONLY Clinic.
Attendees MUST pre-register online for the Clinic by logging into their profile on the Football Canada Officials Portal and registering for the Clinic.
Attendees are required to have already taken the Flag Level 1 eLearning & passed the Flag Level 1 Exam. Do not take the Level 2 eLearning or Exam before the Clinic. Please bring a mobile device to the course so that you can log into the Officials Portal and follow along.
This Clinic is FREE to PEI Officials: An Access Code for the eLearning component will be provided at the beginning of the Clinic.
Please Email the Referee in Chief, Robert St Pierre for more information or for assistance registering.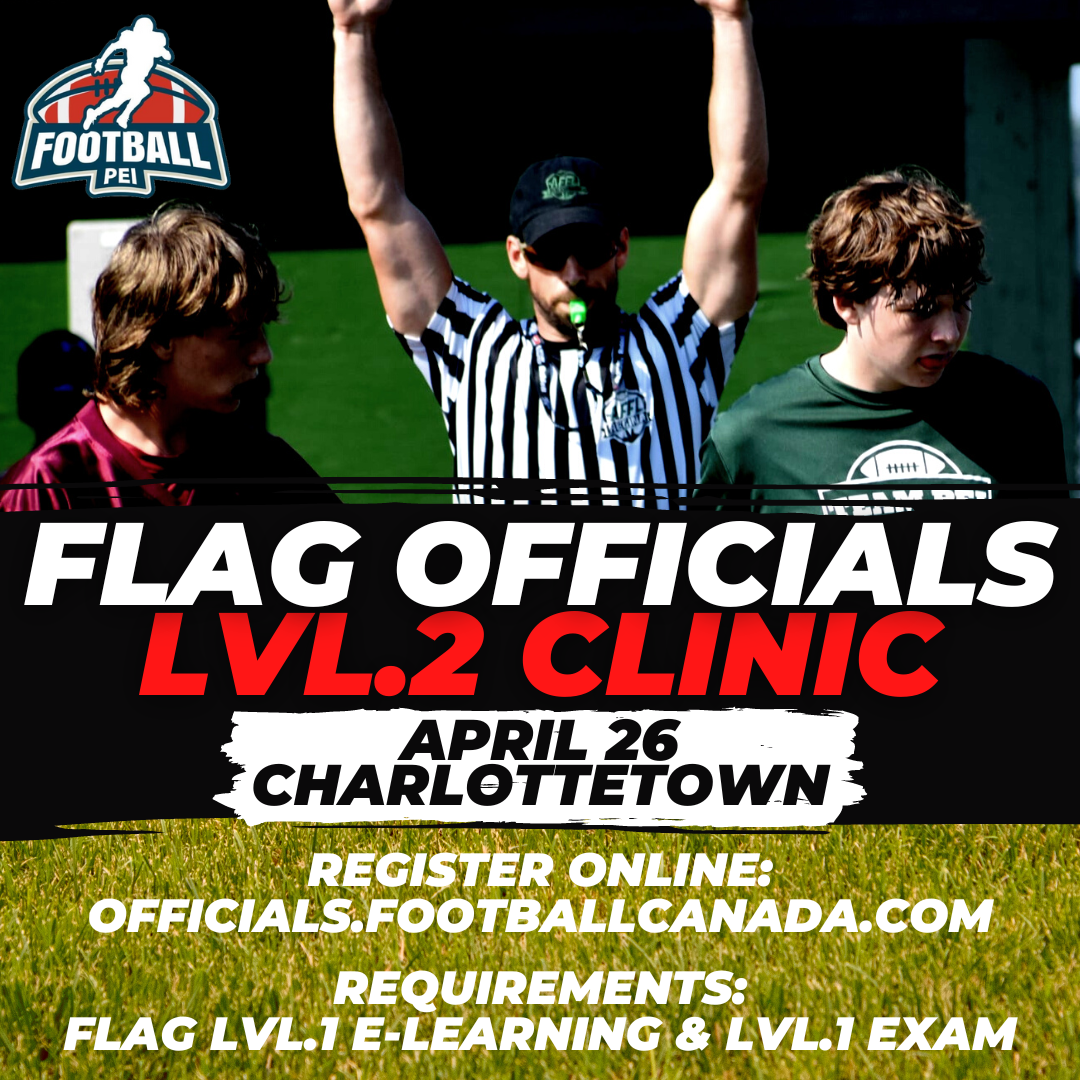 2023 Provincial Tackle & Flag Tournaments Confirmed
March 22, 2023
– The 2023 Atlantic Bowl will be held July 10-16 at UPEI in Charlottetown, PE.
Football PEI will host the annual 6-a-side tackle tournament in both 2023 and '24. Team PEI will be represented by U16 & U18 teams as they face off against Football NL, Football NB, and Football NS.
– The 2023 U18 Flag Football National Championships will be held July 20-23 in Winnipeg, MB.
After hosting the Flag National Championships in PEI last year, Football PEI will be sending one U18 Male team and one U18 Female team across the country to compete in the tournament.
– The 2023 U16 Flag Football National Championships will be held July 30-Aug. 2 in Antigonish, NS.
Following east/west regional events in previous years, the U16 divison now moves to a National Championship format. Team PEI will be represented by one U16 Male and one U16 Female team in this divsion.
These are the 2023 events and dates that Team PEI will be participating in this summer. The complete 2023 game schedules and further details will be shared as they become available.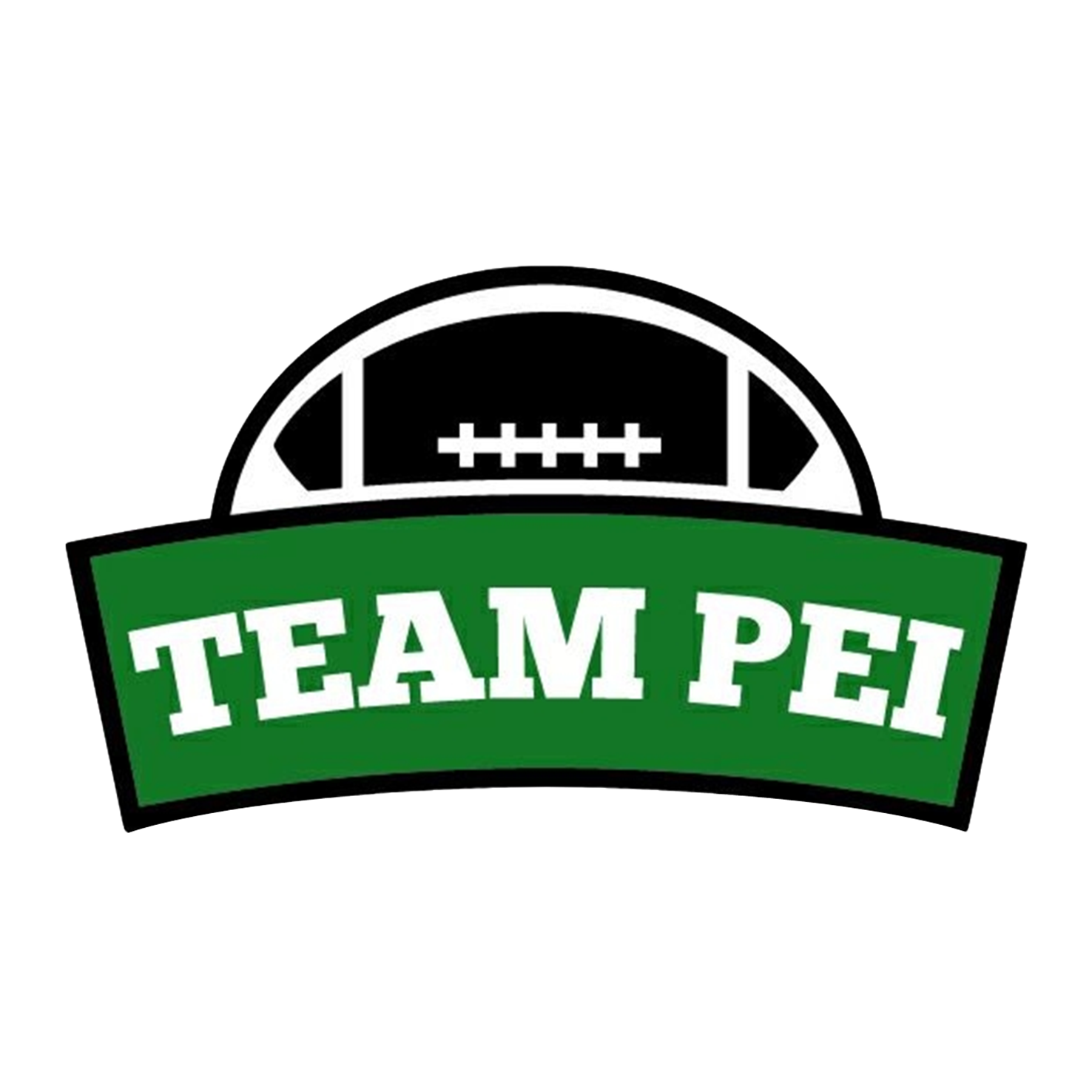 FPEI Approves 'Grade 12 Player Exemption' for Over-Age Athletes
March 17, 2023
The Football PEI Board of Directors have officially approved the following exemption; "The U18 Community Flag & U18 Community Tackle leagues will allow a 'Grade 12 Player Exemption' to any individuals deemed to be 'over-age' that are; Currently enrolled in, or will be entering their first year of grade 12; AND have a date of birth of September 1st through December 31st, inclusive; AND are not currently 19 or will be turning 19 within the current calendar year."
The 'Grade 12 Player Exemption' will come into effect immediately. It will be in effect for Community Flag AND Community Tackle seasons. However, this exemption does not apply to any Football Canada or Inter-Provincial sanctioned events (such as Provincial Flag teams playing in the U18 National Championships or the U18 Provincial Tackle Team playing in the Atlantic Bowl). Football PEI will not require an application process for this exemption – athlete date of birth and a 'Grade 12 Player Exemption' checkbox on registration forms will suffice.
2023 Community Flag Registrations will open later this month. The registration from will have the 'Grade 12 Player Exemption' checkbox on it. Community Tackle Registrations will open in the fall.
New Trophy Honours Legendary Island Coach
November 10, 2022
Ross Young was a star athlete in his university career at Mount Allison University from 1980-84. He went on to help re-found the Souris Wildcats minor-football program in the early '90s – taking them to two straight championship games in their first two seasons. He continued to coach the team while serving as member of the legislative assembly from '91-'96.
He served on the Board of the PEI Tackle Football League in the early 2000's before becoming the head coach of the Holland College Hurricanes football team from 2016-18, where he once again led the team to two straight championship games.
Ross has been described by many as a 'player's coach', always caring more about the interests and wellbeing of his athletes over the outcome of the games. It was this intrinsic ability to connect with his players and build those personal relationships that separated him from the rest.
Ross's compassion for youth athletes was the staple of his coaching philosophy. It's for this reason that Football PEI is honoured to have his family's blessing in naming our newest minor-football trophy the 'Ross Young Memorial Trophy'. The trophy will be awarded annually to the Football PEI U14 Community Tackle Football Champions!